As a race director, I am asked to make calls regarding situations on track. Most decisions and clarifications are clear cut, and some stretch into the realm of just plain strange. In this article, we will cover something that crops up every once in a while, but is rarely talked about in drivers meetings, and isn't covered specifically in the CCR. The situation occurs at the end of a race when we transition from white flag to checkered flag and revolves around the overall leader of the race.
For the sake of making things easy in the following three scenarios, I have selected two classes at the opposite ends of the speed scale. We have two cars racing in PTB (Car 1 and Car 2) and two cars racing in PTF (Car 3 and Car 4). In NASA we often preach about the issues of mixed-class racing and not interfering with other classes when it can be avoided. This is pretty clear during the race. However, the last lap and crossing of the Start/Finish line can sometimes drastically affect the outcome of the race and the drivers of faster cars sometimes don't realize it.
The first scenario happens as shown in Figure A. Car 1 and 2, in the faster PTB class and the overall leaders, have been dueling the entire time, nose to tail and swapping positions several times throughout the race. The same hard-fought battle has been happening for Car 3 and Car 4 in PTF. Cars 1 and 2 are now working their final lap after receiving the waving white flag, and are quickly approaching cars 3 and 4 at the back of the field. As they approach the starter's stand, cars 3 and 4 see the waving white flag and make their last-lap strategy decisions. They receive the last-lap white flag and charge toward Turn 1. Cars 1 and 2, who raced side by side across the finish line and receive the checkered flag just a split second after cars 3 and 4 have gotten the white flag.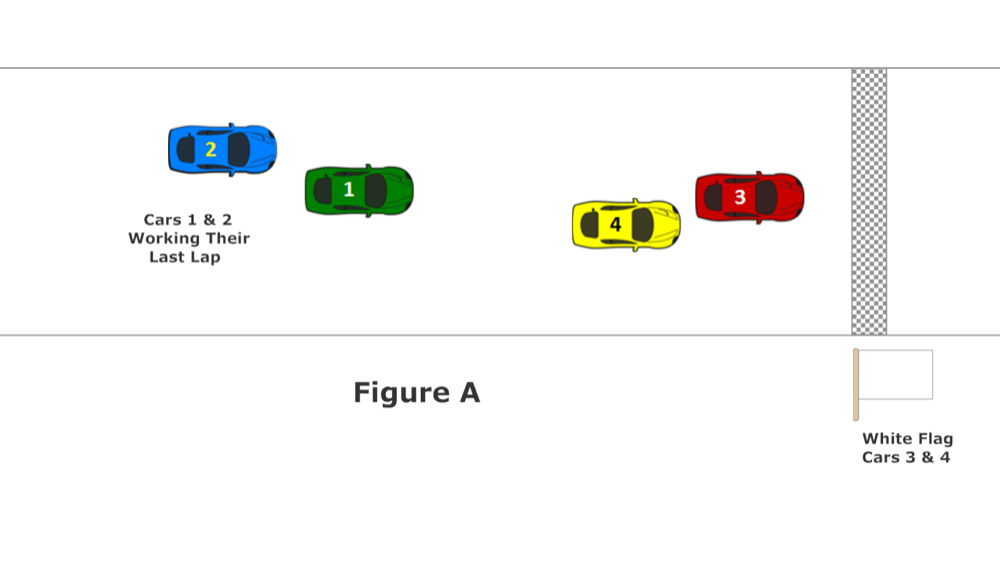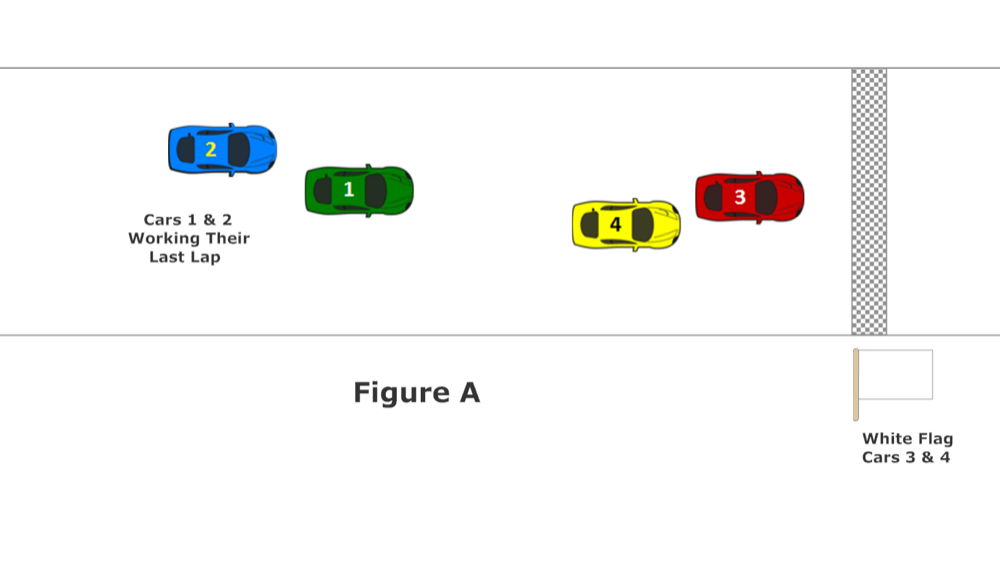 Because they are faster cars with a full load of steam from the charge to the Start/Finish line, they pass cars 3 and 4. So Cars 1 and 2 have received the checkered flag and their race is over. Car 1 and Car 2 slow for their cool-down lap, check their gauges, give each other a thumbs up for a well-fought race and wave to the course officials. Unfortunately, cars 3 and 4, who are behind cars 1 and 2 are still on their white flag lap and are still racing (see Figure B).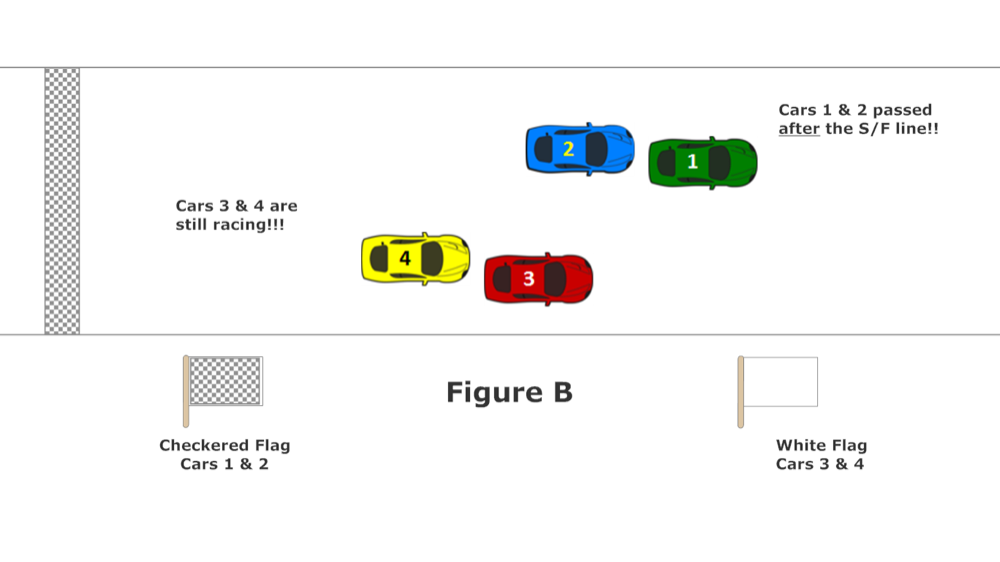 Just because Cars 1 and 2 took the checkered flag doesn't mean the race is instantly over for everyone else on track. Ideally, Car 1 and Car 2 should be aware that those two cars still have the right to finish their race because they have not yet gotten the checkered flag. Cars 1 and 2 move to the side, point 3 and 4 by so they can finish their last lap and life is good.
The second scenario, shown in Figure C, also happens occasionally. Drivers of faster cars should be aware of this, and should consider it as frowned-upon as getting in the middle of an out-of-class race and then unintentionally blocking.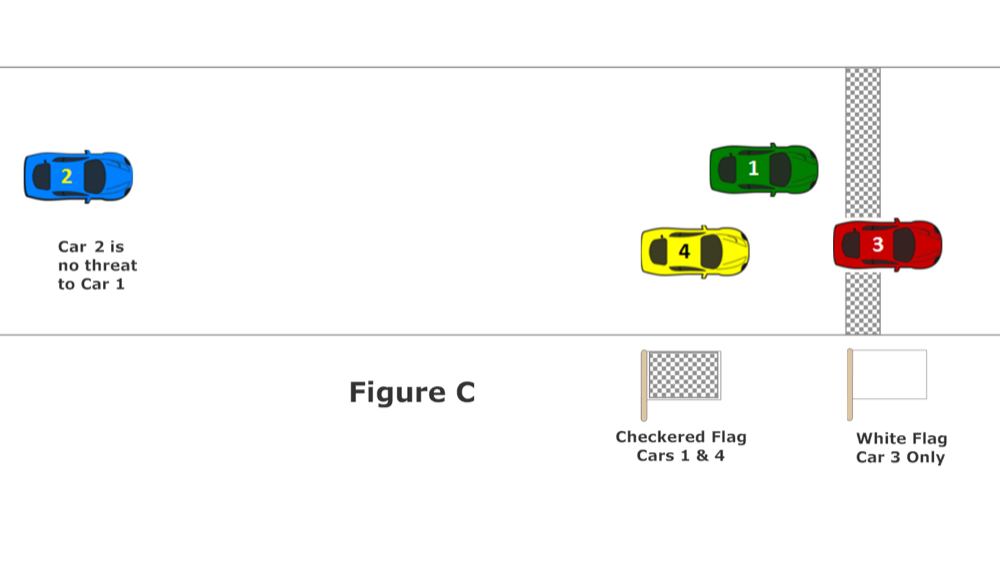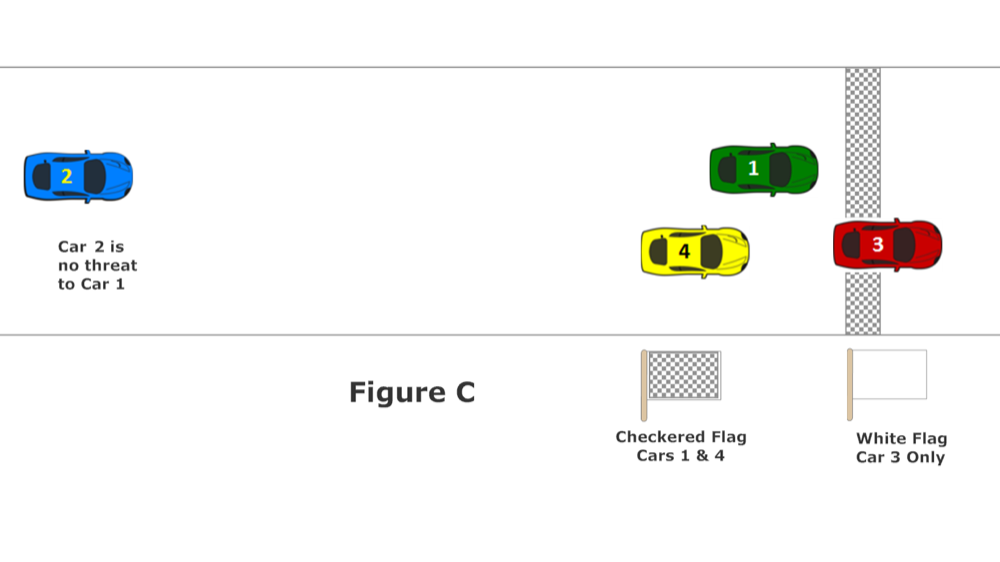 As with the first scenario, cars 3 and 4 have been battling hard for the entire race and are separated by two car lengths. Car 1 has received its last-lap white flag and is approaching Cars 3 and 4 as they enter the last corner before the Start/Finish line. Car 2 is well behind Car 1 by 10 seconds and poses no threat to Car 1. Car 1, the overall leader, sees 3 and 4 battling but chooses to "show them up" and put them one more lap down. Car 1 catches Car 4 but can't quite put Car 3 down one more lap. As they cross the Start/Finish line, the cars receive flags in the following order: Car 3, white; Car 1, checkered; Car 4, checkered.
The driver of Car 1 is understandably thrilled that he won the race overall. The driver of Car 4 is bent out of shape with Car 1 for interfering in their race with Car 3. The driver of Car 3, also is bummed because he was looking forward to racing against someone on the last lap.
In impound, the driver of Car 4 confronts the driver of Car 1, loudly asking why he interfered in their race — and then we have a situation on our hands. Ideally Car 1 could have slowed slightly as they approached the checkered flag and allowed both Car 3 and 4 to take the white flag and continue to race their last lap together. Is Car 1 obligated to do this? Absolutely not.
However since Car 1 was under no threat of being caught by Car 2, this would have been the more sportsmanlike thing to do. The drivers of Car 3 and Car 4 would see this and decide that the driver of Car 1 really has his head/heart in the right place and is the nicest person on the planet. The drivers of Cars 3 and 4 buy a steak dinner for the driver of Car 1 on the way home Sunday and life is good.
The third and last scenario, as shown in Figure D, comes when we as racers, must play the cards we are dealt. Car 1 and 2 are quickly approaching Car 3 and 4, which are nose to tail and driving as hard as they can. Car 1 and 2 exit the last corner, and as they cross the Start/Finish line the order is Car 3, who got the white flag, Car 1, Car 4 and Car 2 all of whom got the checkered flag.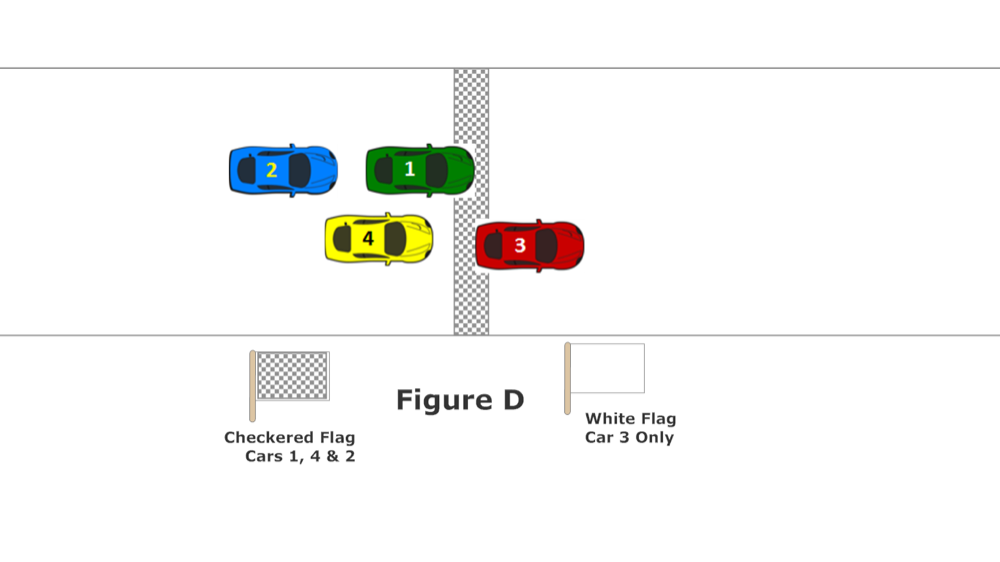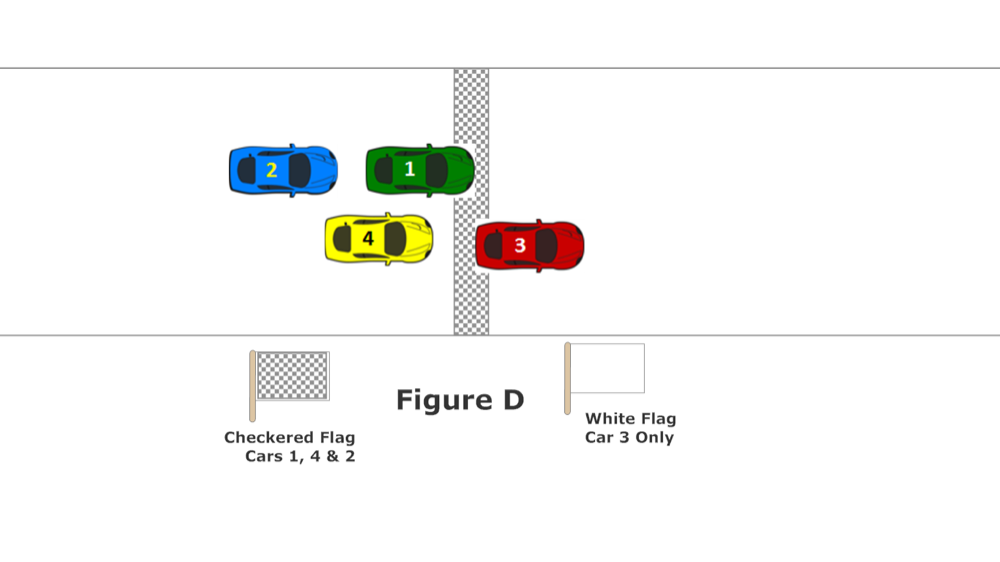 It would have been nice for Car 4 to get that last-lap chance to attempt a pass on Car 3, but it was put a lap down by Car 1 and then received the checkered. Unfortunately, there isn't really anything 1 or 2 could have done not to affect the race of 3 and 4 without affecting their own race, and this is a downside of mixed-class racing. The best thing to do in this case, and what I would do as the driver of Car 1, is talk to the driver of Car 4 to ensure there are no hard feelings. "Sorry we caught you right at the end of the race. I know I probably goofed up your race with Car 3, but Car 2 was right on my tail and I was pedaling as hard as I could to stay in front of him. Of course, if I were all alone, I would have pulled back and let you guys race."
In summation, not interfering during mixed-class racing can't always be avoided. If you have the ability to make a small change and make the situation the best possible, then give it a shot. As the overall leader, you can get excited about seeing the checkered flag, but consider that your decision to charge to the finish can affect someone else's race. Remember, a thinking and courteous driver is a winning driver.
Dave Balingit has been an active course official since the mid 1980s, a racer with NASA since 1994, and a current Race Director with NASA since 2000.